OVER-THE-COUNTER COVID-19 TESTS
What is required for COVID-19 home test coverage?
The Biden administration on Jan. 10 announced that starting Jan. 15, 2022, commercial insurance companies and group health plans will be required to provide coverage for authorized over-the-counter (OTC) COVID at-home testing products at a $0 cost share for members for up to eight individual tests per member each month if purchased at a participating pharmacy. Reimbursement for COVID test kits is not required if used for employment purposes. CMS communicated this through an FAQ from federal regulators. As described by the federal government, these tests are self-administered and self-read at home or elsewhere without the involvement of a health care provider.
How do I get a free at-home OTC COVID-19 test?
Starting January 15, BCBSWY members can go online or to a pharmacy or store to purchase an at-home over-the-counter COVID-19 diagnostic test authorized by the U.S. Food and Drug Administration (FDA), either through reimbursement or free of charge through an in-network pharmacy location.
BCBSWY highly encourages members to purchase a test directly from an in-network pharmacy counter to ensure the claim will be filed electronically. You will need to be prepared to show your BCBSWY member ID card.
You can find an in-network pharmacy here.
NOTE: tests purchased off the shelf or from a non-pharmacy provider or retailer will require members to submit a paper claim for reimbursement.
What if I go to an out-of-network pharmacy or online retailer?
You can still obtain tests from out-of-network pharmacies or other retailers and submit a form for reimbursement. You will need your receipt and the NDC/UPC code (each approved brand has a specific "NDC/UPC" code). The maximum reimbursement allowance is $12 per test. Any costs above $12 will be out-of-pocket.
Use the Prescription Drug Claim form, which can be found under "Member Forms" or you can find the form here.
Members will need to submit the NDC/UPC code from the test and attest that COVID-19 home test kits will not be used for required employment testing or resale.
What if my physician gives me an at-home test?
If your doctor gives you an OTC at-home test, you will need to pay for the test at the doctor's office and submit a paper claim to BCBSWY for reimbursement. If your doctor's office submits the claim on your behalf, it will be denied. BCBSWY will cover doctor-ordered lab tests.
Do I need a prescription to receive a free over-the-counter COVID-19 test?
No, you do not need a prescription for the over-the-counter COVID-19 test.
Where do I find an in-network pharmacy?
You can find an in-network pharmacy here.
Will retail pharmacies be able to ship COVID home test kits?
Yes, all pharmacies will be able to ship COVID home test kits to members, including retail pharmacies, retailers, and online retailers, subject to availability.
What if I already bought and paid for an at home OTC COVID-19 test? Can I still be reimbursed?
BCBSWY will only cover at-home over-the-counter COVID-19 tests purchased on or after January 15, 2022, not to exceed $12 per test.
What if I buy more than one test at a time?
BCBSWY will cover eight tests every 30 days for each individual on the plan, regardless of whether the tests are bought at once or at separate times throughout the 30-day cycle.
Which tests are FDA approved?
The following tests are currently approved at home OTC COVID-19 tests. We expect the FDA to authorize several more tests in the coming weeks.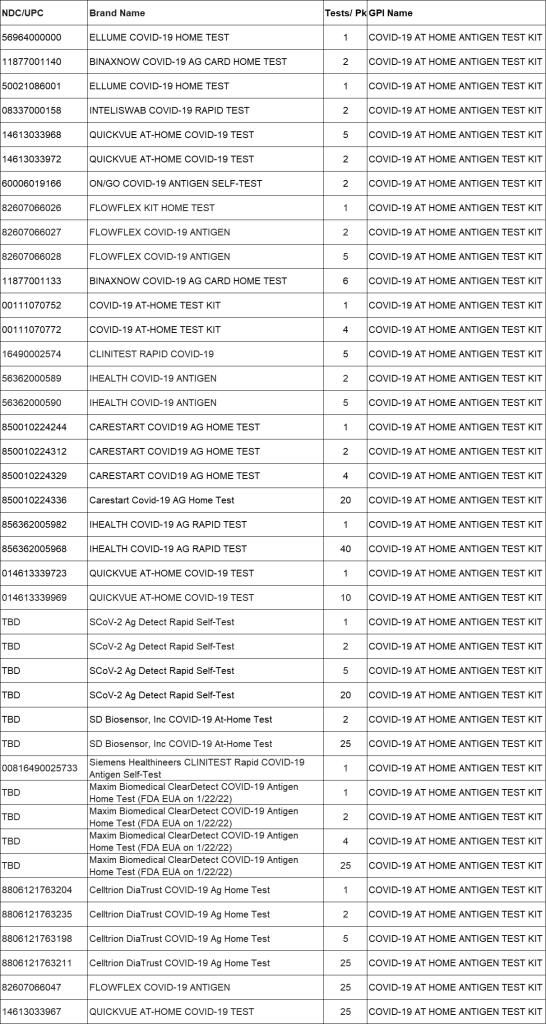 How will BCBSWY handle claim submissions for other COVID tests not on the list above?
The above list is intended to cover COVID-19 home antigen test kits that are available without a prescription and do not require a lab to read the results. Because molecular products mostly require a prescription and are lab-based tests, BCBSWY considers them a medical benefit. Claims will deny coverage for tests not on Prime's list of covered test kits.
NOTE: We anticipate covered test kits may change or be expanded in the future as more tests are approved, or more guidance is issued.
Why are some COVID-19 tests at home and self-read not on the approved list?
Tests on the above list are included if used at home, with results read at-home and do not require a prescription order or to be read by a medical lab. If ordered by a physician, at-home tests sent to a lab to be processed are considered a covered medical benefit.
How are test kits billed, per test or per box?
Each of the test kits is billed per test. If there are two tests in a box, and the allowed cost is $12 per test, the product cost is $24.
Note: Claims submitted for kits including multiple tests can only be processed per person on a health plan, not split between household members covered by the same health plan.
How many tests can I get reimbursed for?
BCBSWY will cover eight individual at-home over-the-counter COVID-19 tests per person enrolled in the plan per month. Note, tests may be packaged individually or with multiple tests in one package (for example, two tests packaged in one box). BCBSWY will cover eight tests every 30 days, regardless of packaging. There is generally no limit on the number of COVID-19 diagnostic tests that must be covered when ordered or administered by a health care provider.
My employer requires that I test myself multiple times per week and send them the results as a condition of employment. Can I get these tests reimbursed by insurance?
No, for employment purposes BCBSWY will not cover COVID-19 tests, including at-home OTC tests.
Free OTC COVID-19 Tests for Medicare Beneficiaries
The Centers for Medicare & Medicaid Services (CMS) announced that it will cover over-the-counter (OTC) COVID-19 tests for Medicare Advantage (MA) and Medicare Part B beneficiaries at no cost, mirroring the coverage required of commercial health plans that went into effect in January. MA plans are not responsible for the costs of these tests. The program is funded by CMS and will continue until the end of the public health emergency.
Beneficiaries may obtain up to eight free tests per month from participating health care providers and national pharmacy chains, such as CVS and Walgreens. Products must have been approved, authorized or cleared by the Food and Drug Administration (FDA). The program details are outlined in a fact sheet from CMS.
The announcement marks the first time Medicare has covered an OTC product at zero cost to beneficiaries and brings free access to these critical tests to more than 59 million Americans. To receive the free tests, beneficiaries should bring their red, white and blue Medicare card, rather than their MA insurance card, to a participating provider or pharmacy.
BCBSA has been supportive of CMS ensuring equitable access to these products for Medicare beneficiaries.
Federal Employee Program (FEP) FAQ
How many at-home OTC COVID-19 can I get covered as a member of FEP?
FEP will reimburse up to eight over-the-counter COVID-19 tests per member on a contract per calendar month. Once you reach the limit of eight tests per member per calendar month, FEP will not reimburse for additional tests.
How do I get a OTC COVID-19 test?
Go to an in-network retail pharmacy and purchase the kits at the pharmacy counter. Provide your member ID card to the pharmacist and you'll pay no out-of-pocket cost. To find an in-network pharmacy, click here.
OTC tests can also be purchased at retail locations, not to exceed $12 for a single test. If purchased from a retail location, FEP members will need to complete a Health Benefits Claim form for reimbursement.
How do I get reimbursed if I purchase a test from a retail location?
Complete a Health Benefits Claim Form and mail it to BCBSWY:
BCBSWY
4000 House Avenue
PO Box 2266
Cheyenne, WY 82003
It must include the original receipt or a copy of the receipt for purchasing the tests. You can submit any number of receipts on a single claim form.
You must submit a separate claim form for each covered family member.
When can I expect to be reimbursed?
After your claim is processed, the contract holder will receive a reimbursement check by mail. Claims are generally processed within 30 days of receiving your completed claim form and receipts.
Find more information on FEP over-the-counter test policies here.