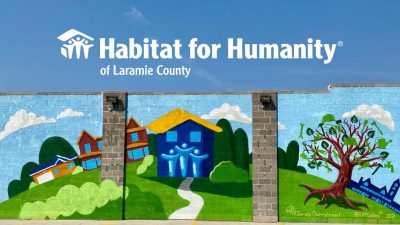 CHEYENNE, WYO – The Blue Cross Blue Shield of WY (BCBSWY) Caring Foundation recently renewed its partnership with Wyoming Affiliated Habitat for Humanity organization's Fresh Start Fund. The Fresh Start Fund assists individuals and families needing a fresh start. The program, led by Habitat for Humanity, collaborates with other local organizations serving various needs in each community, including homelessness, those escaping domestic violence, addiction programs, and more. When an organization has a client ready to transition into their dwelling, the Fresh Start Fund will provide a voucher for the client to shop at their local Habitat ReStore for items they need. In 2021, the Caring Foundation provided a $20,000 grant to support these efforts in Laramie County, Sheridan County, Park County, and Teton County and has pledged an additional $15,000 for 2022.
Keeping Wyoming families healthy and safe is a priority goal of the Caring Foundation, according to Diane Gore, President, and CEO of BCBSWY. "This program helps individuals and families across Wyoming who are under immense stress start to build a new foundation," she said. "Access to safe and affordable housing and the support necessary to maintain that housing is one of the most basic and powerful solutions to improve vulnerable populations' overall health. It also helps build strong and healthy communities. We're delighted to extend our partnership with Habitat for Humanity organizations to offer individuals and families a fresh start."
About Blue Cross Blue Shield of Wyoming
Blue Cross Blue Shield of Wyoming (BCBSWY), a not-for-profit health insurer and an independent licensee of the Blue Cross and Blue Shield Association, provides access to high quality healthcare coverage, services and programs to help our members make the best healthcare decisions and get the best care.  With 10 locations across Wyoming, we provide hometown service to residents and businesses while serving people and charitable organizations in communities around the state. Learn more about us at BCBSWY.com.
About Blue Cross Blue Shield Caring Foundation of Wyoming
As a caring community, BCBSWY has been involved in promoting the good health and well-being of Wyoming residents by participating in and contributing to many health-related charities and causes. In 1990, BCBSWY established the Caring Foundation of Wyoming to help sustain this mission. The Caring Foundation of Wyoming now focuses its support through charitable giving. For more information, visit www.bcbswy.com/company_info/foundation