Reminder, beginning April 1st, 2021 all hospital inpatient prior authorizations and concurrent reviews for BCBSWY members should be submitted through the Availity portal.
To assist our providers with this transition, BCBSWY is offering one final training session.   
Wednesday, April 7, 12:30 pm 
To register please contact Provider Relations at provider.relations@bcbswy.com. If you are unable to attend this final training, please let us know and we can set up an individual session.
For more information on prior authorization requirements please visit: https://www.bcbswy.com/providers/preadmin/.
Celebrating Doctors' Day – March 30th  
Next Tuesday is National Doctors' Day, we would be remiss in not acknowledging how valued you are today, and all year long! Your compassion and commitment to healing makes a difference in our community every day.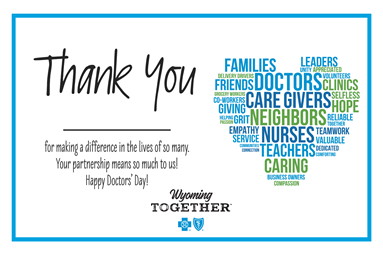 BCBSWY Mailing Address:
PO Box 2266, Cheyenne, WY 82003-2266
Blue Cross Blue Shield of Wyoming is an independent licensee of the Blue Cross and Blue Shield Association