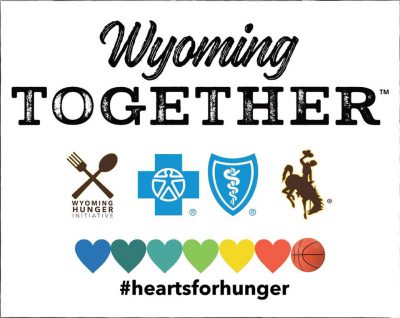 CHEYENNE, WYO – Blue Cross Blue Shield of Wyoming (BCBSWY) is teaming up with the First Lady Jennie Gordon's Wyoming Hunger Initiative to launch the Hearts for Hunger fundraising campaign on January 22, 2022, at the University of Wyoming (UW) Men's Basketball game against New Mexico.
The Hearts of Hunger fundraising campaign, started last February, is an opportunity to support the Wyoming Hunger Initiative with a nominal $5 contribution. Donors' names will be added to each heart and displayed in the Wyoming Capitol building during the month of February.
"Our 2021 #heartsforhunger campaign raised enough money through small donations that Wyoming Hunger Initiative was able to stretch our grant award budget and fund an unexpected infrastructure grant in the form of a freezer last year. Every dollar, no matter the amount, makes all the difference and that is what the Hearts for Hunger campaign is all about," said First Lady Jennie Gordon. "Blue Cross Blue Shield of Wyoming's ongoing support for Wyoming Hunger Initiative showcases their commitment to the wellbeing of our state and it is an honor to partner with them yet again."
BCBSWY will match Hearts for Hunger donations with the first 1,000 hearts sold. Hearts can be purchased online at www.nohungerwyo.org/donate-heartsforhunger today. Blue Cross Blue Shield of Wyoming is also sponsoring a giveaway package through UW for a VIP experience to a UW basketball game, which includes courtside basketball tickets, a hotel room, and a gift card to a restaurant in Laramie. To be entered to win, participants need to donate to the Hearts for Hunger campaign and like, comment or share the social media post about the giveaway.
"It's a win-win for Blue Cross Blue Shield of Wyoming to leverage our UW game sponsorships to spotlight food insecurity in Wyoming. Our partnership with the Wyoming Hunger Initiative continues to address food insecurity and raise awareness of the issue," said Diane Gore, BCBSWY president, and CEO. "The Hearts for Hunger fundraiser is a chance for individuals to stand with Wyoming Hunger Initiative to ensure everyone in our state has enough to eat."
Blue Cross Blue Shield of Wyoming, along with the BCBSWY Caring Foundation, has contributed more than $250,000 to the Wyoming Hunger Initiative since the start of the COVID-19 pandemic in 2020. All proceeds have gone to help Wyoming residents facing food insecurities. In the fall of 2021, BCBSWY helped the Wyoming Hunger Initiative donate more than 4,000 meals to the Food Bank of Wyoming during the Tackle Hunger Food Drive at the UW football home opener. Follow @BCBSWY on Facebook, Instagram, and Twitter to learn more.
About Blue Cross Blue Shield of Wyoming
Blue Cross Blue Shield of Wyoming (BCBSWY), a not-for-profit health insurer and an independent licensee of the Blue Cross and Blue Shield Association, provides access to high-quality health care coverage, services, and programs to help our members make the best health care decisions and get the best care.  With 10 locations across Wyoming, we provide hometown service to residents and businesses while serving people and charitable organizations in communities around the state. Learn more about us at BCBSWY.com.
About Blue Cross Blue Shield Caring Foundation of Wyoming
As a caring community, BCBSWY has been involved in promoting the good health and well-being of Wyoming residents by participating in and contributing to many health-related charities and causes. In 1990, BCBSWY established the Caring Foundation of Wyoming to help sustain this mission. The Caring Foundation of Wyoming focuses its support through charitable giving. For more information, visit www.bcbswy.com/company_info/foundation