CHEYENNE, WYO – Nearly 4,000 meals were donated to the Food Bank of Wyoming at the University of Wyoming football home opener through the Tackle Hunger Food Drive. The food drive was a partnership between First Lady Jennie Gordon's Wyoming Hunger Initiative and Blue Cross Blue Shield of Wyoming (BCBSWY) to fight food insecurity in Wyoming.
In addition to the nonperishable items donated across the state, and in support of Hunger Action Month, BCBSWY is pleased to announce a donation of $50,000 from Blue Cross Blue Shield of Wyoming to the Wyoming Hunger Initiative. This is an addition to a $50,000 gift from the BCBSWY Caring Foundation this past spring.
"This partnership with Blue Cross Blue Shield of Wyoming showcases their commitment to this state and that they are taking their responsibility of health and wellness of communities statewide seriously," said First Lady Gordon. "By leveraging their sponsorship of the opening football game to tackle hunger, Blue Cross Blue Shield of Wyoming brought awareness to the often invisible issue of hunger and they increased action by generating nearly 4,000 meals for our Wyoming neighbors. Everyone is one tragedy away from needing to access resources such as a food pantry and I am just inspired by Blue Cross Blue Shield of Wyoming and their dedication to leading the charge of being hunger heroes across the state of Wyoming."
"Food insecurity is one of the most pressing issues people in Wyoming face—it affects 1 in 6 residents and is often an unseen problem. The work of the Wyoming Hunger Initiative reaches every community in Wyoming and offers innovative solutions unique to our state. BCBSWY is committed to positively impacting the health and wellness of our communities. Food security is a key driver of health, and we are proud to partner with the Wyoming Hunger Initiative," said Diane Gore, BCBSWY president and CEO. "With our workforce located across Wyoming, our employees find great value in helping their neighbors and we are so grateful to everyone who contributed nonperishable food items in our Tackle Hunger food drive."
About Blue Cross Blue Shield of Wyoming: Blue Cross Blue Shield of Wyoming (BCBSWY), a not-for-profit health insurer and an independent licensee of the Blue Cross and Blue Shield Association, provides access to high quality health care coverage, services and programs to help our members make the best health care decisions and get the best care.  With 10 locations across Wyoming, we provide hometown service to residents and businesses while serving people and charitable organizations in communities around the state. Learn more about us at BCBSWY.com.
About Blue Cross Blue Shield Caring Foundation of Wyoming
As a caring community, BCBSWY has been involved in promoting the good health and well-being of Wyoming residents by participating in and contributing to many health-related charities and causes. In 1990, BCBSWY established the Caring Foundation of Wyoming to help sustain this mission. The Caring Foundation of Wyoming focuses its support through charitable giving. For more information, visit www.bcbswy.com/company_info/foundation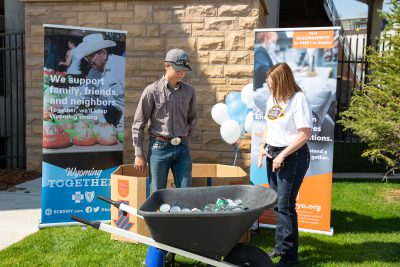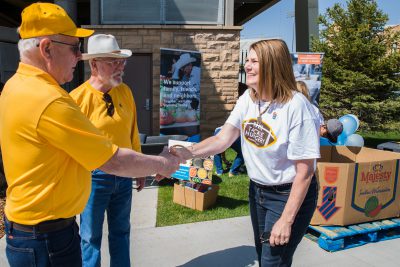 Photo credit: Elizabeth Dillow