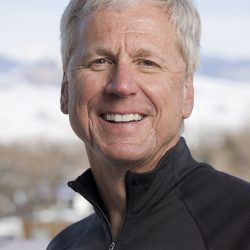 CHEYENNE, WYO – The former President of the National Outdoor Leadership School (NOLS) and local Lander leader, John Gans, has recently been named to the Board of Directors for Blue Cross Blue Shield of Wyoming (BCBSWY). 
"We are thrilled that John is joining our board and value his experience as a leader in the nonprofit and community arenas," said Diane Gore, President and CEO. "John is well recognized in Wyoming and across the world for his leadership at NOLS. John served for 25-years as President of the organization, overseeing programs teaching wilderness skills, environmental studies, and leadership to more than 27,000 students annually in all 50 states and more than 40 countries. His deep knowledge of successful strategic planning, finances and operational excellence will be an asset to our Board as we work to maintain access to quality, affordable care for Wyoming residents."
"I look forward to being involved with Blue Cross Blue Shield of Wyoming and serving on the board during a time of such important health care discussions in Wyoming," Gans said. "Blue Cross Blue Shield of Wyoming is a health care leader in our state, and I look forward to working with them."  
Born in the upper Midwest, John came to Wyoming early in his career and joined the NOLS faculty in 1980. He then held progressively broader roles with the program before becoming President in 1995. He oversaw the development of new programs and initiatives, while working to integrate the local cultures and staff in many foreign countries. He helped NOLS acquire the Wilderness Medicine Institute which educates more than 23,000 students in wilderness medicine, including Wyoming members of the WWAMI medical education program. John was instrumental in developing the Custom Education Division, which tailors learning to professional groups who have included NASA astronauts, federal land managers and corporate leaders, among others.   
John has contributed both to his community and to the state, serving on the boards of Lander Valley Medical Center (now SageWest), the Lander Community Foundation, and Leadership Wyoming. He is widely recognized as a leader and speaker at international outdoor education and leadership conferences. He retired from NOLS in 2020 and lives with his wife in Lander and enjoys visits from their three adult children.   
About Blue Cross Blue Shield of Wyoming 
Blue Cross Blue Shield of Wyoming (BCBSWY), a not-for-profit health insurer and an independent licensee of the Blue Cross and Blue Shield Association, provides access to high quality health care coverage, services and programs to help our members make the best health care decisions and get the best care.  With 10 locations across Wyoming, we provide hometown service to residents and businesses while serving people and charitable organizations in communities around the state. Learn more about us at BCBSWY.com.