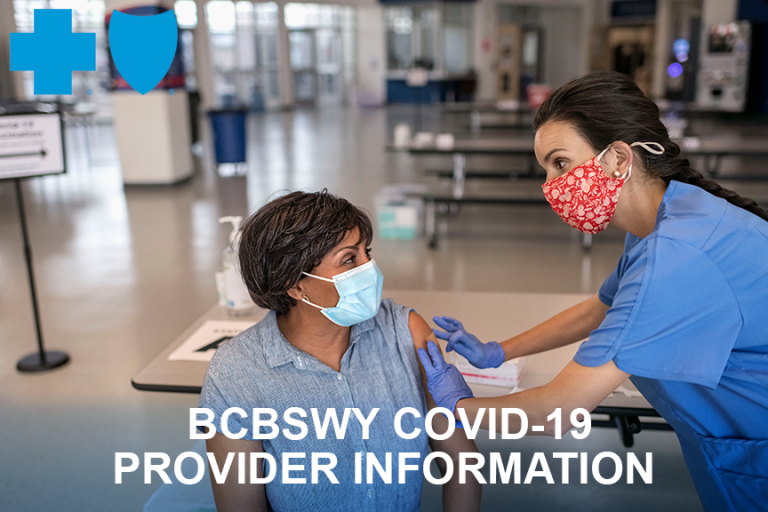 February 2nd, 2022 — BCBSWY closely monitors COVID-19 developments and how the virus could impact our customers and provider partners. Here's the latest information – be sure to check back frequently for updates.
Provider Covid-19 Updates: 
COVID-19 Reimbursement Vaccine Codes: 
Blue Cross Blue Shield of Wyoming welcomes the arrival of safe and effective vaccines as a critical component in the national and local COVID-19 response. BCBSWY will waive all cost-sharing for any fees charged to administer the vaccines.   
Screening for COVID-19 Diagnosis Guidance:
Asymptomatic and pre-surgical COVID-19 diagnostic testing is covered when medically appropriate and supported by the accepted standards of current medical practice. To ensure proper reimbursement for COVID-19 diagnostic tests, please follow the guidelines set out in the diagnostic guide.
COVID-19 Test Billing Guidance:
The Families First Coronavirus Response Act (the FFCRA) and the Coronavirus Aid, Relief, and Economic Security Act (the CARES Act) require health plans to cover diagnostic testing of COVID-19. Coverage must be provided without any cost-share, prior authorization, or medical management requirements. The table provided in the billing guide will help to understand which billing codes are appropriate for these services.
The Centers for Medicare & Medicaid Services (CMS) and the Place of Service Workgroup has approved two changes for the National Place of Service (POS) code related to telemedicine services.
Effective Feb. 17, 2022, BCBSWY has updated our telemedicine guidance. BCBSWY will permit telephonic and telemedicine visits to occur to the patient's home.
COVID-19 Cost-Share Waiver:
BCBSWY is discontinuing the member cost share for COVID-19 treatment effective 1/1/22. Member cost-share will apply for inpatient hospital stays beginning in 2022, even if admission was in 2021.
Over-The-Counter At-Home Covid-19 Tests Update:   
The Biden administration on Jan.10 announced that starting Jan.15, 2022, commercial insurance companies and group health plans will be required to provide coverage for authorized over-the-counter (OTC) COVID at-home testing products at a $0 cost-share for members for up to eight individual tests per member each month.
Over-The-Counter Pharmacist Update:
Find the most updated information on OTC at-home tests and what tests are covered for timely and accurate claims processing.
Information for Health Professionals: 
The Centers for Disease Control & Prevention offers a wealth of resources and tools surrounding the importance of vaccination. 
Covid-19 Vaccination Resources from the CDC:
COVID-19 Booster Shot Eligibility
COVID-19 Vaccination Program Provider Requirements and Support
COVID-19 Vaccine Data Systems
COVID-19 Vaccines Strategy
For More Information on Covid-19 Visit the CDC Website.
Provided guidance from the CDC FAQ.
Continuing to support family, friends and neighbors. Together, we'll keep Wyoming strong.