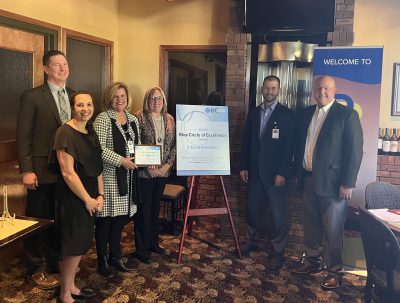 Cheyenne, Wyo – Blue Cross Blue Shield of Wyoming (BCBSWY) announces Powder River Surgery Center in Gillette, Wyoming has been designated as the first Wyoming Blue Circle of Excellence Center for the Knee and Hip Replacement program.
Wyoming Blue Circle of Excellence, launched in 2022, is a designation awarded by BCBSWY to health care facilities which show expertise in delivering high-quality patient safety and better health outcomes, based on objective measures that were developed with input from the medical community and leading accreditation and quality organizations. Only those facilities meeting established quality and cost measures are considered for designation.
Facilities designated as Wyoming Blue Circle of Excellence for Knees and Hips demonstrate expertise in total knee and total hip replacement surgeries, with fewer patient complications and readmissions.
"We started the Blue Circle of Excellence program to build a Wyoming driven solution specifically designed to recognize top-tier ambulatory surgical centers around the state," said Diane Gore, BCBSWY president and CEO. "Encouraging specialty care at the right location can help hold the line on health care costs while promoting effective, high quality medical care. We are excited to partner with Powder River Surgery Center to offer our members the best care at the most affordable price."
"At Powder River Surgery Center, we are focused on quality of care. Although we are accredited by AAAHC for all our services, it is an honor to obtain this Blue Cross Blue Shield of Wyoming Center of Excellence Award, specifically for our total joint program that we have worked hard to develop," said Linda Bedwell, Director, Powder River Surgery Center. "Having incredible surgeons, anesthesia providers and clinical staff are the first step in a successful program, and we have that!  We are proud of this designation and hope people will recognize the top-quality healthcare in our state and choose to keep healthcare in Wyoming."
For more information about the program, visit: BCBSWY.com/wyoming-blue-center-of-excellence-member/
About Blue Cross Blue Shield of Wyoming
Blue Cross Blue Shield of Wyoming (BCBSWY) is a not-for-profit health insurer and an independent licensee of the Blue Cross and Blue Shield Association. Rooted in Wyoming for 75 years, BCBSWY provides access to high quality health care coverage, services and programs to help our members make the best health care decisions and get the best care. With 10 locations across Wyoming, we provide hometown service to residents and businesses while serving people and charitable organizations in communities around the state. Learn more about us at BCBSWY.com.
About Powder River Surgery Center  
Powder River Surgery Center serves the Gillette community with a wide range of surgical needs. PRSC is AAAHC certified, meeting the rigorous standards to ensure quality, safe and efficient patient care. The staff at PRSC offer the best care and are committed to delivering high quality, state of the art healthcare. PRSC provides outpatient surgery for not only orthopedic procedures but we also offer surgical services for spine, urology, GI, pain management, ophthalmology, podiatry and general surgery, please visit our website for full physician directory www.PowderRiver-sc.com.  PRSC is striving to keep healthcare in Wyoming by accepting most insurances and expanding services lines which will include ENT in March 2023.